If you appreciate how Tony Levin from legendary King Crimson plays Chapman stick masterfully, you would naturally like to know more about the strangest musical instruments.
I have prepared this selective instrument list after a thorough
search from tens of professionally used or amateur home inventor instruments.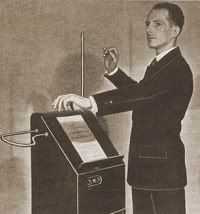 Theremin
: As being the ancestor of all electronic musical instruments, I appreciate its uniqueness and mad Tesla style. The invention comes from Russia by Lev Thermen in 1919. It is played without touching using both hands.
Widely used in both classical and popular music. Here is Samuel Hoffman playing a popular dance melody ! with Theremin in 1953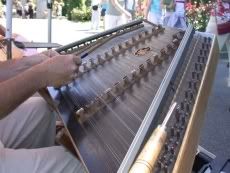 Hammered Dulcimer: If you are a drummer and want to feel how guitar players do it with strings, that's for you or vice versa; hammer your strings like a drummer.
This video tells us how beautiful this instrument suits for medieval folk genre.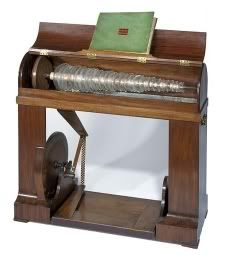 Glass Harmonica
: Yeah, it is invented by Benjamin Franklin in 1761 when he saw how water filled wine-glasses are played. Grandmasters including Mozart, Bach, Strauss loved it much and arranged many compositions for it. In 18th century, it was believed by many that it would make both musicians and listeners go mad.
Actually, the only danger was the lead poisoning through
the rubbing old lead glasses with fingers.
Here is an excerpt video about Glass Harmonica
and Mr. Franklin.
Maywa Denki: Let's continue with cacophony sound machines of Japanese bizarre machine artist Nobumichi Tosa. I can't find words to define this. You should watch the following video instead.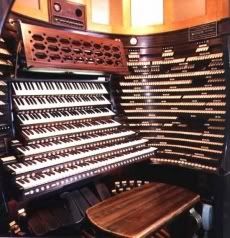 Atlantic City Convention Hall Organ: The largest and loudest musical instrument ever constructed including over 33,000 pipes at the weight of 150 tons!
Here is the video for the king of the instruments.
LEGO Harpsichord: If we don't consider the strings, all harpsichord parts are made of plastic LEGO pieces by Henry Lim in two years of heavy working process.
The best part is that it is playable.
Here is how the harpsichord sounds at the inventor's website.
Here are other useful websites totally specialized in odd instruments with lots of information.
You can also visit the article about crazy sound machines where the music is performed by automata music machines.